Some "Outside" Thoughts on Instrumental Music in Worship
Written by Leland Ping on Jul 11, 2016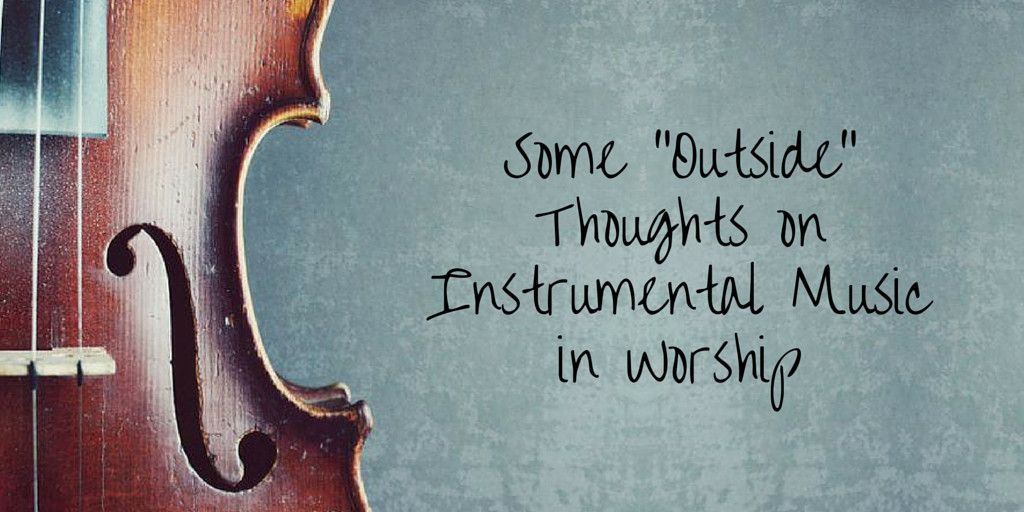 The New Testament church worshipped God in song and we, in following that pattern, do the same. We don't use any mechanical instruments, we have no praise band, and we don't even use a simple piano or organ to "help" us in our praise of God. The inspired apostle Paul wrote, "speaking to one another in psalms and hymns and spiritual songs, singing and making melody in your heart to the Lord" in a passage that is familiar to many individuals (Ephesians 5:19). This is one of a number of passages that authorize and command us to sing but says nothing about the use of any mechanical instrument.

Typically, those who are not members of the Lord's church will strongly disagree with this logic and defend their denomination's use of such perversions of worship. There are some denominational individuals, though, whose comments on instrumental music might come as a surprise. John Price, a denominational "pastor" wrote, "with no command, example, or any indication whatsoever from the Lord Jesus that He desires a musical instrument in His church, we have no warrant for their use." In this same book (Old Light on New Worship, 2005) the author writes that we have "no authority" to bring pianos, organs, bands, or other instruments into church worship regardless of our preferences.

Wow! To know that these comments weren't made by a "church of Christ preacher" should be very telling. God made it that the way we worship Him has little or nothing to do with how we sound or impress others but does have a great deal to do with our hearts and our focus on Him. The most beautiful thing in worship we can ever hear may not be voices blended in perfect harmony, but rather minds that our joined in serious, reverent worship of the Creator. All of us are capable of singing (even if we say we can't!). God has given us that ability. Not all of us, however, have the ability to play an instrument and therein is a great piece of the puzzle as to why God has asked us to sing praises to His name and not use musical instruments.

Throughout history, including in the last few years, churches have prided themselves on their instrumental arrangements in worship to God. Some churches even go so far as to offer different "types" of musical worship so as to appeal to a greater number of people. But, that's not our purpose as saints. As members of the Lord's church, we must always focus ourselves on doing His will and following His commands. That's what matters the most and that's what we must always strive to do.